Now that the season is starting to warm up, I would love it if I didnt have to still see all the dull colored hues. I love color and so should everyone else. Are you ready to brighten up the end of your winter? With the addition of a little color it can lighten up the mood the bad wether brings. Sprucing up your look, be it makeup. outerwear, businesswear, comfort wear, or even workout clothing, will liven up wear ever you are at.
Bright colors, such as orange, pink, and maybe even a lavender, should be worn as an accessory. Try putting royal purple on your nails or coral on your lips or eyes color some color(s) on your eyes,
Speaking of brightening, Spring is coming in three weeks. The upcoming season has a lot of different trends coming our way. If you happened to see the fashion week you might have noticed that much of the clothing was leaning toward a relaxed and comfortable fit. I know you all are tired of seeing pictures from fashion week here are some Spring 2011 styles from stores you may know or buy from. But trust me, these trends aren't just limited to those designers, you should be seeing the styles in any women clothing store, even pretty girl ;).
Like I said, Spring is all about the comfort and loose fit. Featured below is a pair of Hanes' Soft Luxe Wide Leg Pants, in brown, for casual wear. They also come in grey, purple, white, beige, and black. Personally, I would wear these pants in purple, of course, with some flip flops, a cami, and some accessories. is all about the comfort. Flowing bell bottoms (fashion week), loose tops, strips are back, flowing dresses.. platform and cloths. fold over pants
Here are some more wide leg typed pants. 70's style bell bottoms will also be in style. Below are The Marisa Fir Lenin Pant by Victoria Secret.
This year, we again see the strips. Strips in any color for all style of clothing will do. And since strips bring about a more nautical feel, I decided to feature swimwear. Beneath is the Laguna Hills Pink Triangle Bikini by Hollister.
Many of us ladies are no stranger to the beloved Wedge. Of course the seasons to come will not be a stranger to this style of shoe. However, the wedge is beginning to modernize. Here is the right foot of "Lenny" by Maloles.
Do you love clogs as much as i do? Well I know you'll love that the clog is also evolving. This perfect combination of sandal, clog, and platform greatly pleases me. The Platform Clog by Gevenchi, shown in black, is also available in in brown and beige.
I must confess, when I fist got an email from Barneys with this picture of the new collection of Chloe Sevigny for Opening Ceremony I was ecstatic. I feel in love with the varies shoes by the brand. My favorite was the one below, named "Mary Jane."
As I stated early, the upcoming season is all about a loose fit and comfort. This loose fit includes pants, dressed and skirts. Styled below is the Washed Silk Short by Juicy Couture.
Everyone loves going out. For those party girls, prints and fitted dresses are definitely back. This dress can be dressed up with some nice jewelry and heels or dressed down with a leather jacket and heels or laced boots. This blue-licious cheetah dress is known as the "Leather Taped Animal Print Ribbon Backless" dress by Burberry. Mouthful? I know.
As i previous stated to wear with the lovely party dress, you can accessorize your clothing with a multi-pocket leather. I doubt the ever go out of style!
I cant help but stress, that loose clothing is the way to go. Though not asymmetrical, like many of the 2011 trend tops, this "Cashmere-silk Draped Cardigan" by Black Label is no exception to the 2011 fashion rules. here is is shown with a fitted dress and some platforms. I would wear it with a pair of skinny jeans and fitted top and flats.
And lets not forget the cargos!! Yes, cargos will probably remain in style for the next couple of years. Actually, I don't see them going anywhere. These Skinny Leg Cargos by Calvin Klein is worn with strips and platform like clogs. This female is surely ready for this upcoming spring.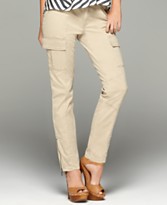 Of course the list of trends can go on, but these are styles that I've seen. If you have any to add, please comment.