Ladies have you brought your ponchos yet?
This fall we are going to be seeing many styles of clothing. Jacket styles are no exception.
Originating in South America, the poncho, or shawl, made its way in the US, of course with some personal touches and alterations. And, yes we seen many of them this summer, like this featured Forever 21 shirt. I too enjoyed wearing them, as did Indiyah who wore a wonderful different poncho shirt almost every day.
Forever 21 $9.99
Now, It is soon to be very trendy for fall outerwear.
There is much affordable poncho outerwear and many ways to wear them.
H & M
I really like H&m 's loose, right red, jacket (another color is available). Its a little on the medium-long side and it'll be great for this cooler weather. Plus, this lovely bright color brings a smile to my face, as I know it would to anyone else.
jacket 69.95
Banana Republic:
while in the 5th avenue banana republic store i noticed a trench like, a little lower than waist length, button-up, poncho. i was beautiful. i especially loved the neck assembly, where it was two buttons that can, or not, be assembled by matching fabric.
PHOTO UNAVAILABLE, in store
Victoria's Secret
Vicky is calling their spin on the poncho a cape. They have it in a few colors. I love the animal print inside. This jacket seems pretty fun. Maybe they call it a cape, because you can easily throw it over your should like one, considering there isn't any sleeve holes.
Faux Fur-trim cape $158
Michael Kors
The Kors collection have many ponchos to choose from. The one I believed to be interesting is the turtle neck poncho. Many people laugh when they see people in turtle necks, but I've always liked them. Why not? I think the Kors poncho seem really elegant and it can be used as a dress or sweater. You can really bring your personal style to it, no matter what, by adding accessories.
Turtleneck Poncho, cream $124
Alexander Wang
Wang is not stranger to statement making. And, her new poncho is a great head turner. Though a bit pricey, I believe it will keep you warm and dry. It sort of reminds me of a flight jacket by the material used on the inside and out.
Taffeta Poncho $895 (@ Nordstrom)
American Eagle Outfitters
I adore AE's sweater poncho with buttons. I love the fact that you are able to unbutton the poncho however you'd like and even wear it as a shawl, sleeveless. It comes in a gray and red, as well.
Cable poncho $69.50
Free People
Last, but definitely not least, Free people seemed to also bring the heritage of the poncho with their bohemian design. I love the color and the retro style.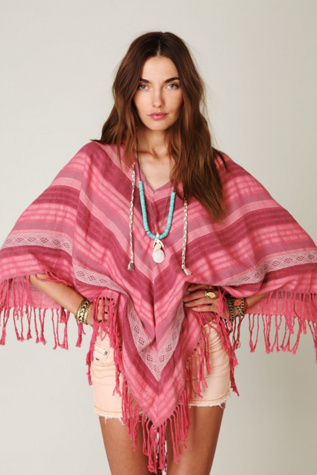 On The Fringe Poncho $49.95
I'm sure there are many other lowered priced ponchos out their but these are the "affordable" ones i seemed to think interesting.
There are also many stores that do not have their ponchos and new jackets on line. Try going out to the mall or a store and you can see for yourself. There are also discount stores, department stores, and boutiques, with great ponchos and other clothing, for that matter.
Thank you. Please Comment & Subscribe.
This post is dedicated to Carla who is stuck in Binghamton. I miss you, Carlita.
Credits: